Mamma T's Peach Cobbler By Freddie
Indulge in Mamma T's Peach Cobbler, a delicious dessert that's bursting with sweet, juicy peaches and a buttery, golden crust. This heavenly treat is perfect for family gatherings or satisfying your sweet tooth on a cozy night in.
May 04, 2023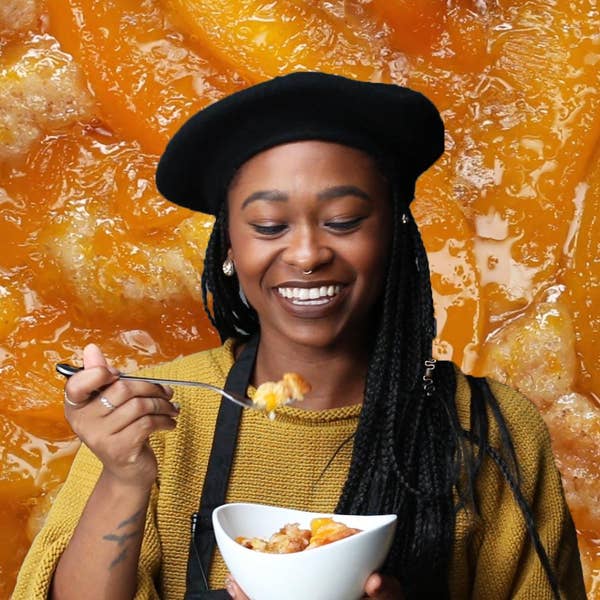 Ingredients
for 7 servings
7 peaches, peeled and sliced
1 tablespoon cornstarch
1 teaspoon lemon zest
1 teaspoon lemon juice
2 tablespoons water
1 ½ cups sugar

(300 g)

, divided
1 cup flour

(125 g)

¼ teaspoon cinnamon
½ teaspoon nutmeg
1 teaspoon baking powder
¾ cup milk

(180 mL)

½ teaspoon vanilla extract
¼ teaspoon almond extract
¼ cup butter

(60 g)

, plus 1 tablespoon
Preparation
Preheat oven to 350˚F (180˚C).
In a medium saucepan over low heat combine peaches, cornstarch, water, lemon zest, lemon juice, and ½ cup sugar in a medium saucepan. Raise the heat to medium and cook until thick and bubbly, stirring often.
Add the flour, cinnamon, nutmeg, and baking powder to a sieve and sift into a large bowl.
In a small bowl, combine sugar, milk, vanilla extract, almond extract, and 1 tablespoon of melted butter and stir to combine.
Pour the wet ingredients into the dry and mix well.
Grease a 12x8 inch (30x20 cm) (4.8 quart) baking dish with the remaining butter.
Pour the batter into the bottom of the greased baking dish and smooth into an even layer with a spatula.
Transfer the peaches gently by placing them on top of the batter. Do not stir.
Bake for 50 minutes to 1 hour or until golden brown.
Serve warm and enjoy!
All your favorite recipes, stored in one place. Download the Tasty app and never lose a recipe again.