Mille Crepe Cake
A delicate and impressive cake made up of layers upon layers of paper-thin crepes and velvety ganache. With each slice, you get the perfect balance of tender crepes and creamy filling, making it a favorite among dessert enthusiasts.
May 04, 2023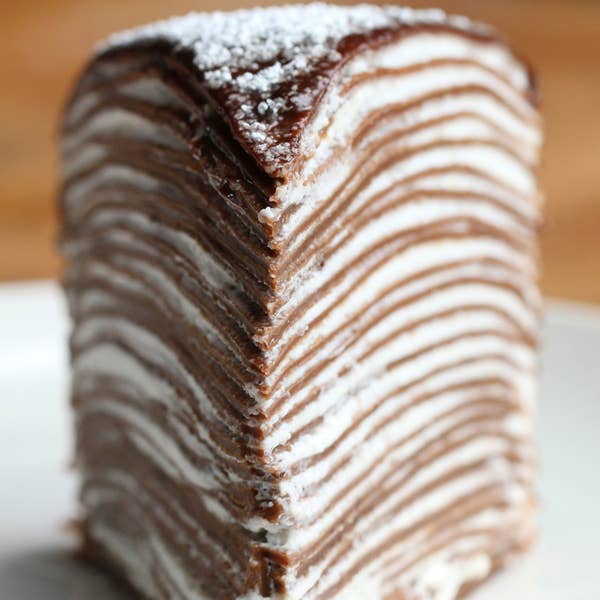 Ingredients
for 8 servings
Crepes
6 tablespoons butter
3 cups milk

(675 mL)

6 eggs
1 ½ cups flour

(210 g)

⅔ cup cocoa powder

(80 g)

7 tablespoons sugar
4 cups whipped cream

(1 L)
Ganache
1 cup heavy cream

(225 mL)

4 tablespoons sugar
6 oz chocolate

(170 g)

1 tablespoon butter
¼ cup powdered sugar

(40 g)

, optional for topping
Preparation
Make the crepes by melting the butter and allowing it to brown slightly. Set aside.
In the same pot, warm the milk. Remove from heat.
In a bowl, whisk flour, cocoa powder, and sugar. Mix in eggs.
Gradually mix in butter and warm milk. Chill.
On a nonstick skillet over medium heat, pour ¼ cup (60 ml) of crepe batter, and tip the pan to cover the entire bottom surface. Cook until bottom surface of crepe begins to brown, then flip.
Cool crepe. Repeat until all of the crepe batter is used.
Stack crepes on top of each other, with whipped cream between each layer. Once assembled, trim edges for a cleaner look, if desired.
For the ganache, bring the heavy cream and sugar to a boil, and pour over chocolate and butter. Let cool.
Spread over the crepe cake.
Top with sifted powdered sugar (optional).
Enjoy!
Cook smarter, not harder. Use our AI chef Botatouille on the Tasty app. Download now.