Mini Egg Pies
These mini egg pies are perfect for brunch or a quick snack. Made with eggs, seasonings, and puff pastry, they don't require much effort. Plus, their cute individual size makes them a great addition to any potluck or party.
May 04, 2023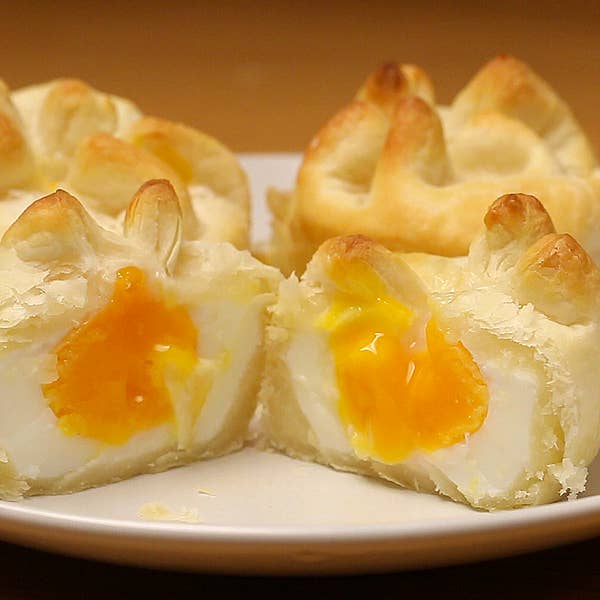 Ingredients
for 3 personal pies
3 eggs
1 sheet puff pastry
3 teaspoons oil
salt, to taste
pepper, to taste
Nutrition Info
Calories

581

Fat

42g

Carbs

37g

Fiber

1g

Sugar

0g

Protein

13g
Estimated values based on one serving size.
Preparation
Preheat oven to 220°C (430°F).
Using a cup or mug with roughly the same diameter as the bottoms of your muffin tin, cut out 3 circles of puff pastry dough. Make sure you cut the circles out as closely as possible to save dough.
With the remaining dough, cut out strips to wrap around the inside of the muffin tin cups. The strips should be about three centimeters (1 inch) wider than the depth of the muffin tin cups.
Rub oil in the bottom of 3 to 4 cups in the center of your muffin tin. Place the puff pastry dough circles at the bottom of the cups, then wrap the dough strips along the walls of the cups.
NOTE: The dough strips should come up a couple of centimeters (about an inch) taller than the wall of each muffin tin cup.
Using your fingers, pinch and press the beginning and end of the strips together and then press the edges of the strips down near the edges of the circles to create one cohesive dough cup.
Crack one egg into each dough cup and then season with a pinch of salt and pepper.
Working carefully, pinch small sections of the tops of each dough wall together, crimping around the edge so that you bend the dough closer to the center and make five crimped crests on the top of each pie. You want to build a top to the pies but there will still be a circle in the middle with exposed egg.
Place the muffin tin on a center rack in the oven and bake for 15-20 minutes, or until the puff pastry is golden brown and the egg looks set. Remove from muffin tin.
Enjoy!
Cook smarter, not harder. Use our AI chef Botatouille on the Tasty app. Download now.