86% would make again
Pb&j Crepe Gift Box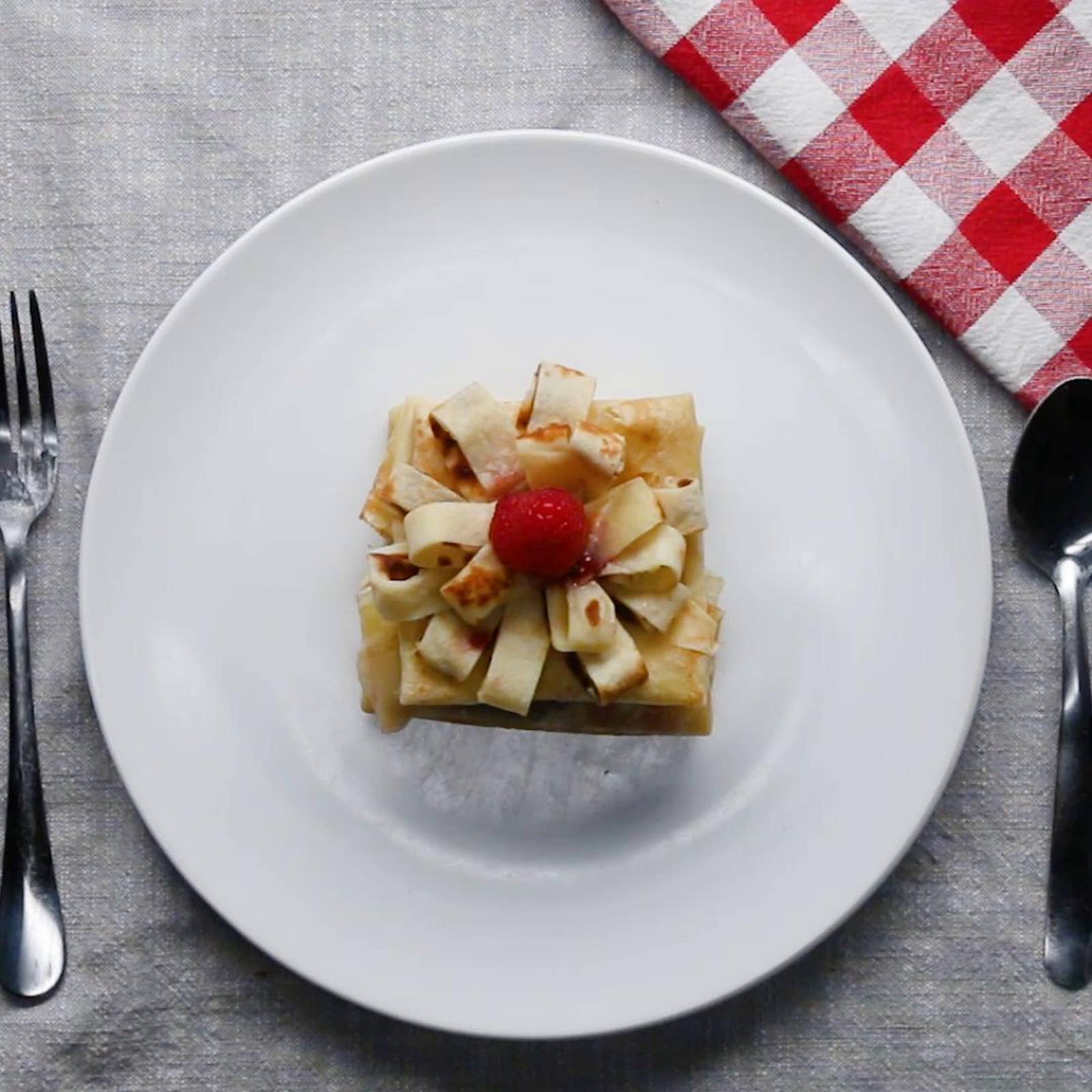 Ingredients
for 5 servings
4 tablespoons unsalted butter, melted, 1/2 stick
3 tablespoons granulated sugar
3 large eggs
3 cups whole milk

(720 mL)

2 cups all-purpose flour

(250 g)

1 pinch salt
1 cup natural peanut butter

(240 g)

, for serving
½ cup raspberry jam

(160 g)

, for serving
4 fresh raspberries, for serving
Nutrition Info
Estimated values based on one serving size.
Preparation
In a large bowl, add the melted butter, sugar, and eggs. Whisk to combine, then add the milk and whisk to incorporate. Sift in the flour and salt and whisk until smooth.
Heat a small nonstick skillet over medium heat. Scoop ¼ cup (60 g) of the batter into the pan. Swirl the pan around until the batter evenly coats the bottom. Cook until the surface begins to bubble slightly and the edges brown, about 3 minutes.
Flip the crepe and cook on the other side for another 1-2 minutes. Remove from the skillet and set aside to cool. Repeat with the remaining batter.
Place a crepe on a plate and spread some peanut butter in the center. Fold in the edges to make a small square pouch.
Top with another crepe, fill with raspberry jam, and fold to make a pouch. Top with one more crepe, fill with peanut butter, and fold.
Cut another crepe into thin strips, separate the strips, then place a dollop of jam onto the center of each strip and fold each end of the strip to meet the jam in the center. Place the folded strips on top of each other to create a bow.
Top with a raspberry and place on top of the peanut butter and jam pouches. Repeat with the rest of the crepes.
Enjoy!