97% would make again
Sun-dried Tomato & Spinach–stuffed Chicken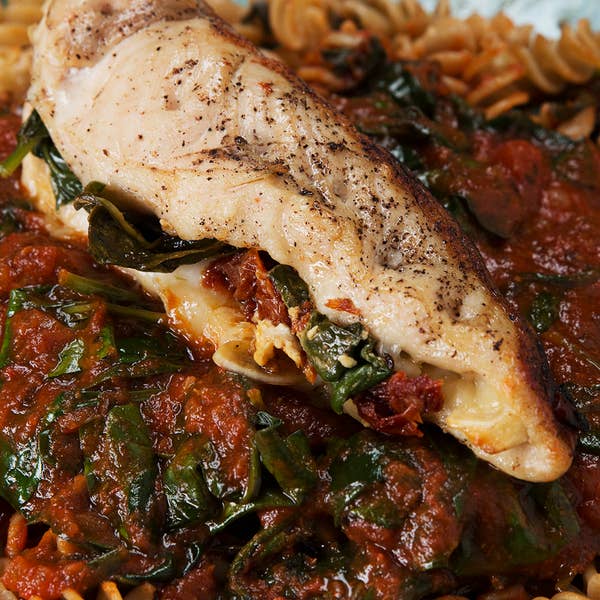 Inspired by yammiesnoshery.com
Ingredients
for 2 servings
4 cups whole wheat pasta

(800 g)

, cooked
Stuffed Chicken
2 boneless, skinless chicken breasts
2 teaspoons olive oil
pepper, to taste
salt, to taste
2 cloves garlic, sliced
½ cup shredded mozzarella cheese

(50 g)

2 oz baby spinach

(55 g)

½ cup sundried tomato

(30 g)
Spinach marinara sauce
2 cups marinara sauce

(520 g)

4 oz baby spinach

(115 g)
Preparation
Preheat oven to 375˚F (190˚C).
With a knife, carefully cut a slit in the side of the chicken making sure to not cut all the way through.
Season the chicken breasts with olive oil, pepper, and salt.
Stuff each chicken breast with a clove of garlic, half of the mozzarella, half of the sun-dried tomatoes, and 1 ounce (30g) of baby spinach. (You may use toothpicks to close the ingredients inside the chicken breasts if desired, just remember to remove them!)
In a cast-iron skillet, sear chicken on medium-high heat until all sides are browned.
Continue baking in oven for 15-20 minutes, or until internal temperature of the chicken reaches 165˚F (75˚C). Set aside.
Heat marinara and spinach in the cast-iron skillet on medium-high heat until spinach is wilted.
Serve chicken on top of whole wheat pasta and spinach marinara sauce.
Enjoy!