89% would make again
Baked Falafel And Tzatziki Sauce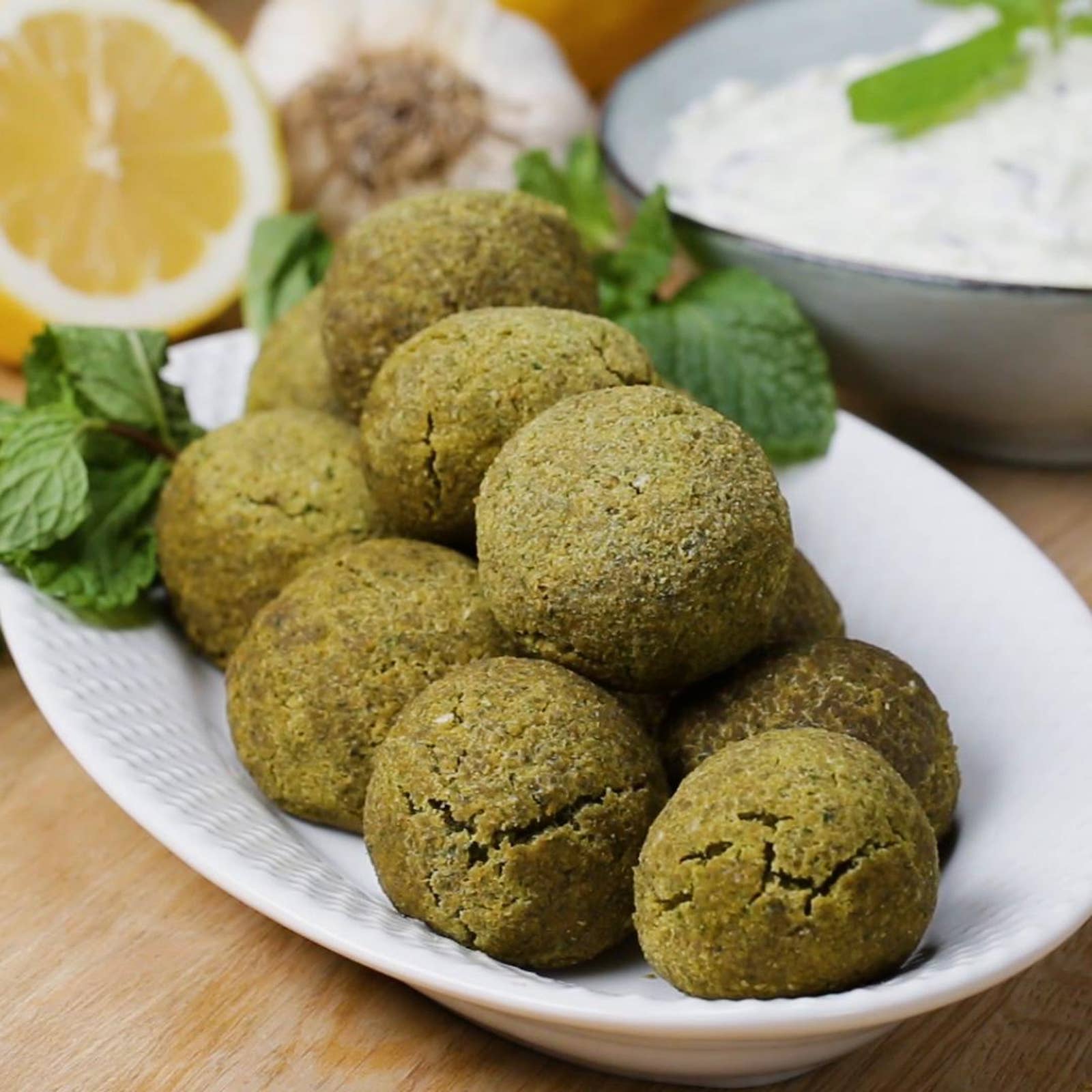 Ingredients
for 16 falafels
2 ½ cups dried chickpea

(500 g)

8 cups water

(2 L)

½ bunch fresh parsley
¼ bunch fresh cilantro
¼ bunch fresh mint
5 cloves garlic, halved, divided
1 onion, roughly chopped
1 teaspoon paprika
2 ¼ teaspoons cumin, divided
2 teaspoons ground coriander
1 teaspoon baking soda
1 tablespoon toasted sesame seed
salt, to taste
pepper, to taste
olive oil, to brown falafel
1 cucumber, peeled
1 ¼ cups greek yogurt

(305 g)

2 tablespoons fresh mint
2 cloves garlic, minced
1 tablespoon olive oil
1 tablespoon lemon juice
Nutrition Info
Estimated values based on one serving size.
Preparation
Soak the chickpeas in the water for at least one night, ensuring that the chickpeas are fully submerged.
Drain the chickpeas in a colander. Line a baking sheet with paper towels and add the chickpeas. Cover with more paper towels and let dry for at least 2 hours.
Preheat oven to 350°F (180 °C).
Add the dried chickpeas, parsley, cilantro, coriander, mint, 5 cloves of garlic, onion, paprika, 2 teaspoons of cumin, ground coriander, baking soda, toasted sesame seeds, salt and pepper, in a blender and blend until smooth.
Use your hands to form falafel the size of a ping pong ball.
Place them on a parchment paper-lined baking sheet.
Brush the falafel with olive oil.
Bake for about 25-30 minutes.
To prepare the tzatziki, cut a cucumber in fourths and remove the seeds.
Use a box grater to grate the cucumber into a bowl.
Salt the grated cucumber and let sit for 5 minutes.
Place the salted cucumber into a sieve and press down with a spatula to remove excess liquid.
Mix the grated cucumber with Greek yogurt, 2 tablespoons of mint, the minced garlic cloves, 1 tablespoon of olive oil, lemon juice, salt and pepper.
Serve the falafel with the tzatziki.
Enjoy!