Nashville-Style Hot Wings
These crispy, spicy hot wings are the perfect party snack. The combination of hot sauce and butter creates a flavorful sauce that coats the crispy wings.
May 14, 2023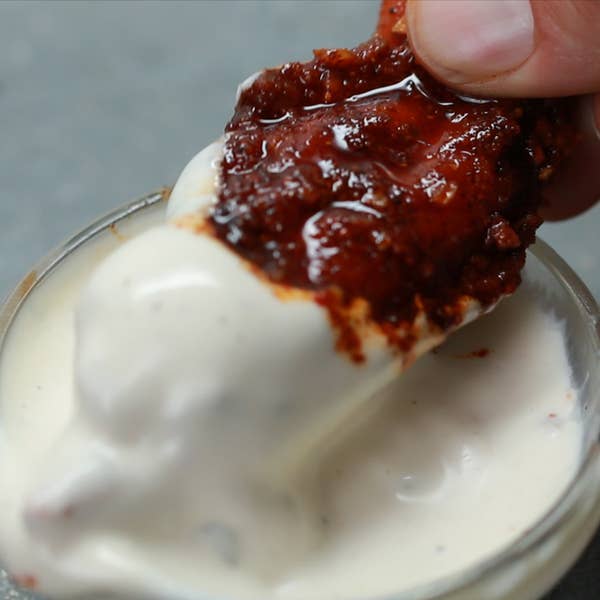 Ingredients
for 4 servings
3 lb chicken wings

(1.3 kg)

4 cups buttermilk

(960 mL)

½ cup lard

(100 g)

1 cup flour

(125 g)
Master Spice Mix
½ cup cayenne powder

(40 g)

6 tablespoons onion powder, or dried minced onion
6 tablespoons garlic powder, or dried minced garlic
6 tablespoons paprika
4 tablespoons brown sugar
2 tablespoons salt
2 tablespoons black pepper
Preparation
Combine all master spice mix ingredients and separate into three equal portions.
In a large bowl combine chicken wings, ⅓ master spice mix, the buttermilk. Cover and chill for as long as possible (4 hours to overnight).
Rinse the brined wing pieces and pat dry.
Mix the flour with another ⅓ of the master spice mix.
Dredge the chicken wing pieces in the flour/spice mixture. Shake off any excess. Set aside.
Heat your oil to 325˚F (170˚C).
Fry the wings for 8-10 minutes, until the internal temperature reaches 165˚F (74˚C). The wings will splatter so its a good idea to have a lid nearby!
Take the wings out and drain on a paper bag or paper towels.
Place the lard in a saucepan and sprinkle over the last ⅓ of your master spice mix. Once the lard is melted and warm, stir the mixture, and take it off the heat. Immediately baste your fried wings with the lard/spice mix and serve right away!
Enjoy!
All your favorite recipes, stored in one place. Download the Tasty app and never lose a recipe again.