Parmesan Zucchini Chips
August 14, 2023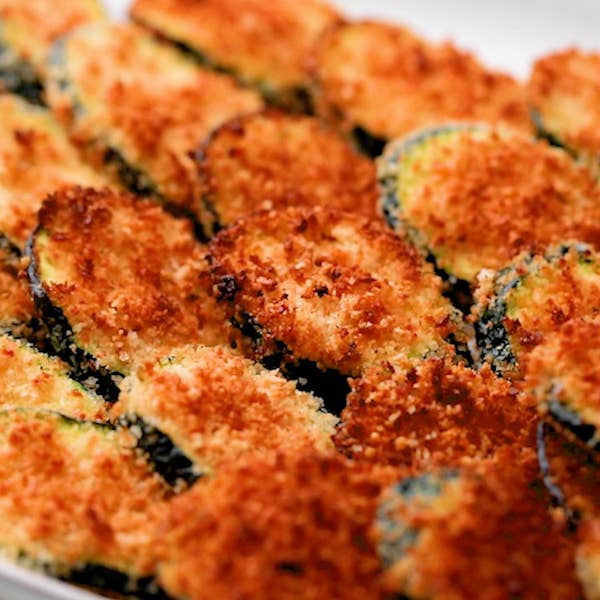 Ingredients
for 6 servings
3 medium zucchinis, cut crosswise on the diagonal into ¼"-thick rounds
2 tablespoons Simple Truth™ Organic Olive Oil,
1 teaspoon kosher salt
1 cup Simple Truth™ Organic Panko Bread Crumbs

(115 g)

½ cup Simple Truth Organic® Grated Parmesan

(55 g)

1 teaspoon Simple Truth™ Organic Garlic Powder
1 teaspoon Simple Truth™ Organic Oregano Leaves
1 container Simple Truth™ Plant Based Tzatziki Cauliflower Dip
This recipe isn't available to shop.
Unfortunately, not all our recipes can be shopped through Tasty.
Preparation
Preheat the oven to 450°F (230°C). Line 2 baking sheets with parchment paper.
In a large bowl, gently toss the zucchini slices with the olive oil and salt to coat.
In a separate large bowl, mix together the Parmesan, panko bread crumbs, garlic powder, and oregano. Add the zucchini slices to the cheese mixture, pressing to coat on both sides. Arrange the zucchini slices on the prepared baking sheet, topping with any remaining cheese mixture.
Bake the chips for 14–16 minutes, rotating halfway through, until golden brown.
Serve with Simple Truth™ Plant Based Tzatziki Cauliflower Dip.
Enjoy!