Pizza Braid
Unravel the delicious secrets hidden within a pizza braid, as layers of gooey cheese, zesty sauce, and your favorite toppings come together in a warm, twisted embrace. This mouthwatering masterpiece is perfect for sharing... or not.
May 04, 2023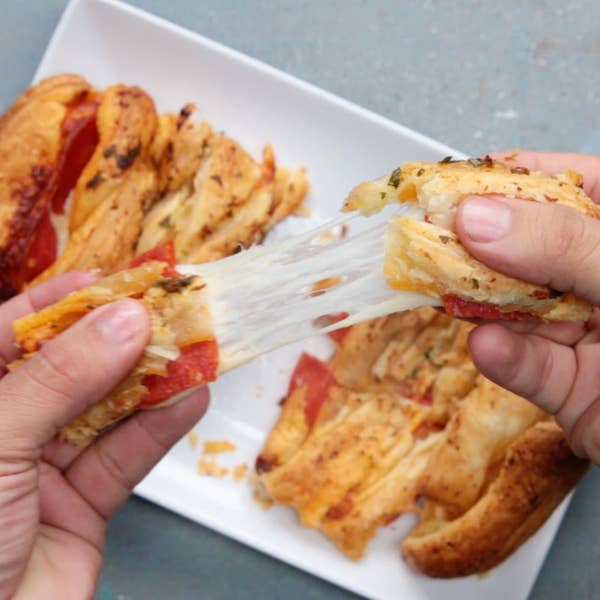 Ingredients
for 2 servings
1 puff pastry
4 slices mozzarella cheese
12 slices pepperoni
2 tablespoons butter, melted
1 clove garlic, minced
1 tablespoon fresh parsley, chopped
1 tablespoon parmesan cheese
marinara sauce, for dipping
Preparation
Preheat oven to 425°F (220°C).
Lay out puff pastry. Place 4 slices of mozzarella and then 12 slices of pepperoni in the center of the dough.
Cut diagonal lines along the left and right side of the cheese and pepperoni about a 1-inch (2 cm) apart.
Remove the corner pieces.
Starting from the top, fold down the flap then alternate right and left until the bottom. Fold the bottom flap up and finish alternating between right and left.
Place the braided puff pastry on a parchment paper lined baking tray.
In a small bowl, combine butter, garlic, parsley, and parmesan cheese.
Brush all over until the top of the braid is fully coated.
Bake for 20 - 25 minutes or until golden brown.
Slice and serve.
Enjoy!
All your favorite recipes, stored in one place. Download the Tasty app and never lose a recipe again.