White Pizza Dip
This creamy, cheesy, garlicky dip is baked inside a ring of pillowy pizza dough knots. Enjoy on game day or when gathering with friends and family.
August 18, 2023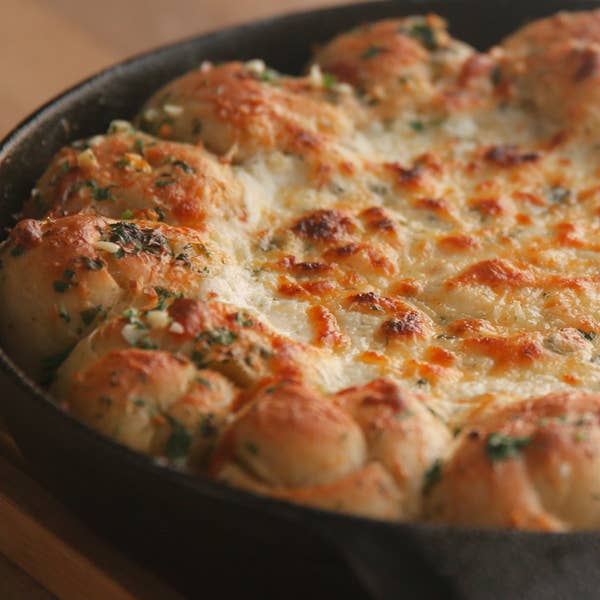 Ingredients
for 12 knots
pizza dough
8 oz cream cheese

(225 g)

, softened
1 cup shredded mozzarella cheese

(100 g)

½ cup grated parmesan cheese

(55 g)

½ cup whole milk ricotta cheese

(125 g)

¼ cup fresh basil

(10 g)

, chopped
6 cloves garlic, chopped and divided
1 teaspoon red pepper flakes
½ cup butter

(115 g)

, melted
¼ cup fresh parsley

(10 g)

, chopped
Preparation
Divide pizza dough into 12-14 equal sized balls. With floured hands, roll the dough balls into logs and tie into individual knots, tucking the excess underneath.
Coat a 10 inch (25 cm) oven-safe skillet with olive oil.
Place the knots in a ring around the skillet. Cover with plastic wrap and let rest for 30 minutes, allowing the dough to reach room temperature.
In a medium bowl, combine cream cheese, mozzarella, parmesan, ricotta, fresh basil, 3 cloves of garlic (chopped), and red pepper flakes.
Melt the butter and add the fresh parsley and remaining garlic. Stir well.
Uncover the knots and scoop the dip into the center of the skillet. Brush the knots with the butter/garlic mixture (reserving some for after baking), and top the dip with an additional sprinkle of cheese (optional).
Bake in a preheated oven to 400˚F (200˚C) for 20 minutes. Broil on high for two additional minutes or until knots and cheese are lightly browned, watching closely so as not to burn it.
Remove from oven and brush lightly with additional garlic butter.
Let cool slightly before serving.
Enjoy!
Your favorite recipes are just a click away. Download the Tasty app to save and organize your favorites.