Mac And Cheese Bun Burgers
This burger is the ultimate comfort food. It's a juicy beef patty topped with a creamy mac and cheese bun and crispy bacon bits.
May 14, 2023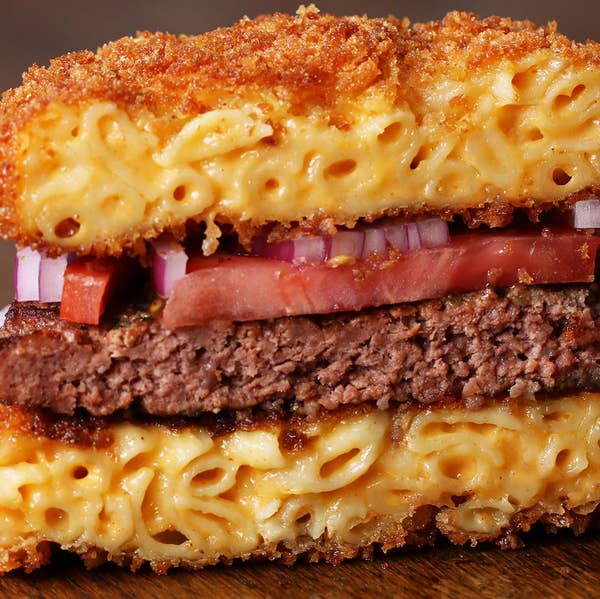 Ingredients
for 3 servings
1 lb macaroni

(455 g)

4 tablespoons unsalted butter
8 oz shredded sharp cheddar cheese

(100 g)

8 oz shredded parmesan cheese

(225 g)

8 oz american cheese

(225 g)

, cubed
12 oz whole milk

(355 mL)

1 tablespoon salt
1 tablespoon mustard powder
½ teaspoon cayenne pepper
1 teaspoon garlic powder
1 ½ cups all-purpose flour

(190 g)

4 eggs, beaten
1 ½ cups panko breadcrumbs

(170 g)

vegetable oil, for frying
1 ½ lb ground beef

(680 g)

, formed into hamburger patties
salt, to taste
pepper, to taste
red onion, sliced, to serve
tomato, sliced, to serve
Preparation
Prepare macaroni according to package directions. Drain the macaroni in a colander and return to the pot.
Add butter, cheddar cheese, Parmesan cheese, American cheese, milk, salt, mustard powder, cayenne to the pot. Turn heat up to medium-low and stir until cheeses are melted and all ingredients are well combined.
Remove the pot from the heat and pour onto a parchment paper-lined sheet tray. Spread evenly with a spatula, cover with plastic wrap, and refrigerate for at least 30 minutes.
Once cooled, use a ring mold or rounded container roughly 4-inches (10 cm) in diameter to cut out 6-8 "buns."
Place flour, eggs, and bread crumbs in three separate bowls.
Dip each macaroni bun in flour, then egg, and finally bread crumbs, coating evenly.
Preheat vegetable oil to 350°F (175°C).
Place the macaroni buns gently in oil and fry 3-4 minutes, until golden brown. Remove with a slotted spoon and drain on paper towel-lined plate.
Season hamburger patties liberally with salt and pepper. In a cast-iron skillet over high heat, sear patties to desired doneness, flipping halfway through.
Place burger between two mac and cheese buns and top with sliced onions and tomatoes.
Nutrition Calories: 3850 Fat: 280 grams Carbs: 197 grams Fiber: 8 grams Sugars: 21 grams Protein: 133 grams
Enjoy!
Don't just wing it -- plan it! Use our meal planner tool in the Tasty app. Download here.