Turkey Sausage And Pepper Muffins
Start your day with a flavor explosion. The savory turkey sausage, vibrant peppers, and melty cheese are baked into a fluffy muffin, creating a breakfast delight that's packed with protein and bold flavors. Grab one on the go, and let these muffins take your taste buds on a savory adventure!
May 04, 2023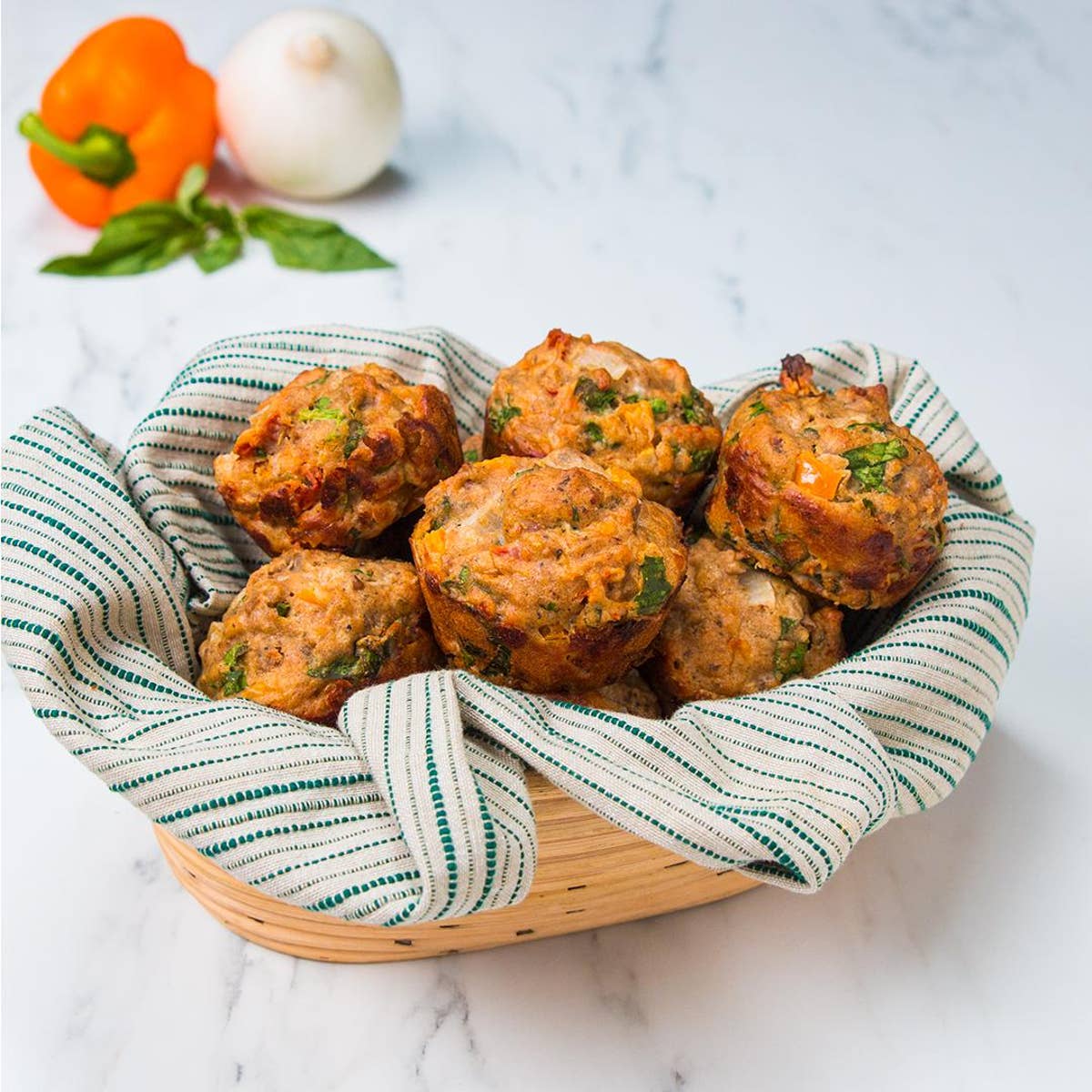 Ingredients
for 12 muffins
nonstick cooking spray, for greasing
2 cups whole wheat flour

(260 g)

1 teaspoon baking powder
½ teaspoon baking soda
1 teaspoon kosher salt
1 teaspoon black pepper
1 pinch sugar
3 large eggs
1 cup buttermilk

(240 mL)

, or 1 cup milk (240 ml) mixed with 1 teaspoon white vinegar
5 tablespoons unsalted butter, melted or olive oil
¾ cup turkey sausage

(95 g)

, cooked
½ cup white onion

(75 g)

, diced, caramelized
1 bell pepper, seeded and diced
⅓ cup sun-dried tomato

(20 g)

, chopped
1 cup shredded mozzarella cheese

(100 g)

1 cup fresh spinach

(40 g)

, chopped
¼ cup fresh basil

(40 g)

, chopped
1 tablespoon italian seasoning
Preparation
Preheat the oven to 350˚F (180˚C). Grease a 12-cup muffin tin with nonstick spray.
Make the batter: In a large bowl, stir together the whole wheat flour, baking powder, baking soda, salt, pepper, and sugar. Set aside.
In a medium bowl, whisk together the eggs, buttermilk, and butter.
Add the turkey, onion, bell pepper, sun-dried tomatoes, mozzarella cheese, spinach, basil and Italian seasoning to the egg mixture and stir to combine.
Pour the egg mixture into the dry ingredients and fold to combine, being careful not to overmix the batter.
Using an ice cream scoop, divide the batter between the muffin cups, filling almost completely.
Bake for 18 minutes, rotating the muffin tin halfway through baking, until browned on top and a toothpick inserted in the center of a muffin comes out clean.
Let cool for 10 minutes before removing the muffins from the tin. Serve or store in the refrigerator for up to 5 days.
Enjoy!
Nutrition, per muffin - Calories: 188, Total fat: 9 grams, Sodium: 486 mg, Total carbs: 19 grams, Dietary fiber: 3 grams, Sugars: 2 grams, Protein: 10 grams
Meal planning made easy with the Tasty app. Download now to see exclusive curated meal plans.